Japan won the team competition at the Junior World Championships in Erzurum. Germany took silver and Slovenia bronze.
The first Ladies Team Event event ever was held today at the Junior World Championships in Erzurum. This premiere was supposed to be held already in the last year in Otepää, but there it had to be cancelled on short hand due to bad weather conditions.
Commanding winner of this competition was the Japanese team with Yuki Ito, Yurina Yamada, Kaori Iwabuchi and individual champion Sara Takanashi. Already in an official training yesterday and in today's trial round they appeared almost unbeatable – but their performance in the competition was even stronger. In total they made four jumps over 100 meters, of which a 104.5 m jump by Takanashi in the second round was the farthest. "Even if our team was expected to be the favorite of this team event, we didn't feel any additional pressure. We just believed in ourselves and we knew that we could rely on each other. There are only four of us competing but we have to mention the whole team that made the gold medal possible today. We definitely increased our self-confidence due to this result. And we would also like to thank the organizers who did a really great job by preparing the hill", said the members of the team.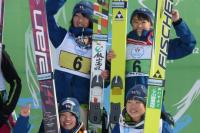 fot. FIS
Japanese Team
The Silver medal winners Ramona Straub, Svenja Wuerth, Katharina Althaus and Carina Vogt from Germany got 848.5 points, so they were almost 120 points behind the Japanese that scored 968 points. Best jumper of the German team was Vogt with two jumps on 95.5 and 96.5 meters. Third came the Slovenian team with Ursa Bogataj, Ema Klinec, Spela Rogelj and Katja Pozun. They were in the end 25 points behind Germany, best of them was Rogelj who jumped 96.0 meters twice.
The Germans said: "Of course we are very happy about winning the silver medal. The whole team did a great job and we were all able to show good jumps. Not least because so many Slovenians have been here around the hill it was great that we were able to beat the Slovenian team at the end. In general the atmosphere was great during the last days and so we can look back on a successful week from our point of view." Also the Slovenian team was happy: "In some way we hoped to achieve a bit more today but now we are absolutely satisfied with this bronze medal. All of us did a good performance, so we can be proud of each other. We also like to say a big thank-you to the organizers because they laid the foundation of those fantastic competitions."
On places four to six followed the Czech Republic, France (with a great first round jump on 99 meters by Coline Mattel) and Norway. China's Liu Qi was disqualified in the first round, as her ski were too long. But also with only seven scored jumps they were able to take the seventh rank, ahead of Austria on place eight. Russia on the ninth rank did not see the second round.
Full results can be found here:
http://www.fis-ski.com/pdf/2012/JP/3209/2012JP3209RL.pdf