Sarah Hendrickson and Sara Takanashi won the two World Cups on Saturday in Zao. Hendrickson wins overall World Cup.
Not only one, but two World Cup competitions were held today in Zao, Japan. Sarah Hendrickson used her chance to write history and prematurely won the overall World Cup in this first season ever.
Sarah Hendrickson wins first competition
World Cup leader Sarah Hendrickson (USA) won the first of the two competitions in the morning. As expected it was a close race between her and Japan's Sara Takanashi. Hendrickson jumped on 99.5 and 95.5 and Takanashi on 98.5 and 99.5 meters. But as the Japanese got lower style points and lost slightly more points to the wind compensation, Hendrickson finally won by 1.1 points. "I did very nice jumps in the morning and was delighted with my achievement", she said. But also Takanashi was happy: "It is something special to compete for your own fans and I'm happy that so many came to Zao", she said. Third came Austria's Daniela Iraschko with a pair of jumps on 94.5 and 96.5 meters.
On the fourth rank followed Melanie Faisst from Germany with jumps on 97.5 and 92.0 meters. Fifth came Norway's Line Jahr, who did a great 98.0 meter jump in the first round, but only jumped 85.0 meters in the second. With Ulrike Grässler another German took the sixth rank (92.0 and 91.5 m).
RESULTS:
Results after the 1st round »
Final results of the competition »
Second competition: Victory for Sara Takanashi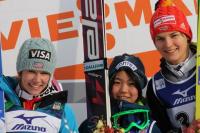 fot. FIS
Podium of the second competition
The final round of the second competition was cancelled because there were some problems with the inrun track. So Takanashi won the competition with only one jump – and that was a really awesome one on 102.5 meters. It is her first World Cup victory, and together with Hendrickson, Iraschko and Switzerland's Sabrina Windmüller Takanashi is one of only four World Cup winners of that winter. "The spectators gave me the strength to jump102.5 m", she said. Second came Hendrickson with a jump on 95.5 meters. "Takanashi showed an impressive attempt but my jump was technically perfect and I have nothing to complain", she said. Germany's Ulrike Grässler jumped 95.0 meter and so came third. "Sarah and Sara are doing outstanding jobs. It will be a hard way to beat them now or in the near future. But I will never give up", she said.
Like in the first competition Jahr came fourth (91.0 m). Fifth came Coline Mattel from France (87.5 m) and sixth Jessica Jerome (USA, 88.0m). For Iraschko a 91.5 meter jump was only enough to take the seventh rank. There was some headwind during that jump, so she lost some points to the wind compensation rule.
Hendrickson wins overall World Cup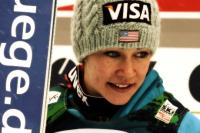 fot. Stefan Diaz
Sarah Hendrickson
Sarah Hendrickson enters the history books as first winner of the Ladies World Cup. With her results today, she is 295 points ahead of second ranked Iraschko, while there are only two races to go. She will receive the World Cup trophy next Friday after the final competition in Oslo. "I wanted to follow the path of Lindsey Van who won the first Ladies Skijumping World Championship Gold. I achieved something important like the first individual World Cup victory and the first overall World Cup title. I know that this is a historical moment but I will need months or even years to realize what it really means", she said. Runner-up Iraschko, who missed the chance to catch up with Hendrickson said: "When I arrived to Zao, I was still a lot of points behind Sarah Hendrickson. Therefore, I did not care about the overall standing."
RESULTS AND STANDINGS:
Final results of the competition »
Current overall World Cup standings »
Current Nations Cup standings »