Sarah Hendrickson won in Oslo ahead of Sara Takanashi and Anette Sagen.
For the final competition of this first World Cup season in history, the Ladies gathered at the Midstubakken in Oslo, Norway, where the Nordic Ski World Championships were held last year. As almost always in Oslo, the competition was held under foggy conditions, nevertheless the sporting performance was once again on a very high level.
Like in many other competitions this winter, Sarah Hendrickson and Sara Takanashi were fighting for the win today. And once more Hendrickson was eventually in front. She won the competition with jumps on 104.0 and 99.0 meters. Takanashi jumped in total even a bit farther, 100.5 and 108.0 meters, but only got low style points for her really far second jump. "The wind was a little bit disturbing today. You have to focus on the simple things and forget about the wind conditions – that's the only things to do," said Hendrickson. "I put too much power in my first jump today but the second jump was perfect; I'm very happy for that," said Takanashi.
Third behind the two Sara(h)s came Norway's Anette Sagen with a pair of jumps on 102.0 and 97.0 meters. This third place is the second podium of the season for the former serial winner. "I'm very delighted to be part of this circuit and very happy about my own results, especially during the last competition. And it is even greater that it happens in Norway. I have been working very very hard from the end of the last season. I will continue to go on with my good work and hopefully I can be a part of the three bests next season," she said.
On ranks four and five followed the World Champions from 2009 and 2011, Lindsey Van (USA, 97.5 and 98.0 m) and Daniela Iraschko (AUT, 101.5 and 96.5 m). With Jacqueline Seifriedsberger another Austrian took the sixth rank (101.0 and 97.0 m).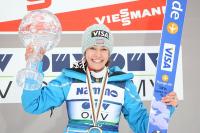 fot. Tadeusz Mieczyński
Sarah Hendrickson
Already since the last weekend, when three World Cups were held in Zao, Japan, Hendrickson was fixed as overall winner of this series. After the competition today she received the World Cup trophy. In total she scored 1169 points and won nine World Cup competitions. "It was a wonderfull season, I acted all season long on a very high level. From the Nordic Ski World Championships in Oslo last year until now, the level in Ladies Skijumping has gotten a lot higher and we will continued to reach higher levels," she said. Second in the overall standings is Iraschko with 779 points, third Takanashi has 639 points.
The American team has won the Nations Cup with 2228, points. "We have a very strong team. We all love ski jumping so much, we don't let anything get in our the way," said Hendrickson. Second in this ranking came Germany with 1601 points, third Japan with 1251 points.
RESULTS AND STANDINGS:
Results after the 1st round »
Final results of the competition »
Final overall World Cup standings »
Final Nations Cup standings »