Former Canadian top-jumper Nata de Leeuw celebrates her comeback at the National Championships.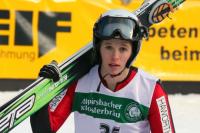 fot. Stefan Diaz
Nata de Leeuw
The Canadian National Championships were held this weekend on the K95 in Whistler. Taylor Henrich, the only Canadian who competed in World Cups this year, won the competition with a pair of jumps of 91.5 and 89.5 meters. It is a big surprise, that – with jumps of 89.5 and 89.0 meters – Nata de Leeuw came second behind her. The actual surprise was not, that she took this result, but that she competed at all. De Leeuw, formerly Canada's best jumper, quit her career after the 2009 World Championships. Between 2007 and 2008 she made it to the podium five times in Continental Cups. In total she celebrated 27 top-ten results in this series. In 2010 she returned to the jumping hills for a couple of days to serve as a forejumper at the Vancouver Olympics. Since she did not do any jumps. According to The Vancouver Sun, she has not made a decision yet, if this was just a one-time appearance, or if she will return to jumping on full-time.
Alexandra Pretorius took the third rank of the competition with jumps of 91.5 and 79.5 meters. Jasmine Sepandj, Mahni Bruce, Miranda Enno and Raven Yip followed on ranks four to seven. All seven competitors in these championships are members of the Calgary-based Altius Nordic Ski Club.
Full results can be found here:
http://skijumpingcanada.com/wp-content/uploads/2009/11/NHRESULTS.pdf