Daniela Iraschko-Stolz won also the second competition in Planica ahead of Sara Takanashi and Carina Vogt.
Austria's Daniela Iraschko-Stolz won also on Sunday on the normal hill in Planica. Like on Saturday, Sara Takanashi from Japan and Carina Vogt from Germany took places two and three behind her. Again the weather was nice and sunny, but the slight tailwind that was there all the time during yesterday's competition was gone today and so the average distances were clearly higher than on the day before.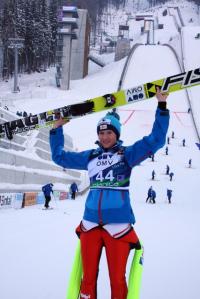 fot. Stefan Diaz
Daniela Iraschko-Stolz
It was a thrilling fight for victory between Iraschko-Stolz and Takanashi, but in the end the Austrian, who made a pair of jumps of 102.5 and 101.5 meters, scored three points more as the Japanese. "Everybody is getting ready for the Olympics. This competition was already on a very high level. Same podium yesterday and today – this just shows who jumps best at the moment", Iraschko-Stolz said.
Takanashi jumped 101.0 meters in the first round and so was in the lead at half-time, but by jumping 98.5 meters in the second round she fell eventually back to the second place. "I am happy with my jumping today, because I did not make the mistakes again, that I did yesterday", Takanashi said at the press conference.
Vogt took the third place by jumping 100.0 and 99.0 meters. Although this was her seventh podium finish this winter, she does not see herself as a "medal candidate" for the Olympics: "I do not see myself as THE big favorite for a medal. I have not won a World Cup yet – there are others in front of me. But of course I will not go there with the goal to take just the tenth place", she said to Ladies-Skijumping.com. "This was a perfect weekend for me".
Fourth place was taken by Japan's Yuki Ito, who jumped 96.5 and 97.0 meters. For the pleasure of the 5000 spectators, that made it again to the hill today, the Slovenian team performed very strong and had again five jumpers among the best 14. Best of them was today Maja Vitc, who came fifth with jumps of 98.5 and 96.5 meters. Sixth came Norway's Maren Lundby. She jumped 97.0 and 96.0 meters.
With her second place today Takanashi took the 1000 point line in the overall World Cup. She has now 1020 points. Second is Vogt with a score of 666, Iraschko Stolz is third with 522 points.
RESULTS AND STANDINGS:
Results after the 1st round »
Final results of the competition »
Current overall World Cup standings »