Sara Takanashi wins in Schonach ahead of Evelyn Insam. Jaci Seifriedsberger and Daniela Iraschko share third place.
There is actually no reason, why reports on ski jumping competitions do always begin with information about the weather. But today the weather conditions really deserve to be mentioned first. Like in in yesterday's Qualification it was quite warm here in Schonach and some drizzling rain and mist made it really uncomfortable to stay outside. Nevertheless over 3000 spectators came to the hill to see this World Cup competition and with their cheering they created a very pleasant atmosphere, that made one forget about the bad weather conditions. At least the wind was calm almost all the time, so the competition was fair and well-balanced.
Unfortunately there was not enough time to hold a trial round before the actual competition, as the jumping of the Nordic Combined World Cup, that's also held here, was finished with a delay of a few minutes.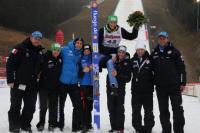 fot. Stefan Diaz
Italian Team celebrating Insam
Commanding winner of the competition was once more World Cup leader Sara Takanashi from Japan. The 16 -year old jumped twice 96.5 meters, both times with two gates less inrun then the rest of the field. She scored in total 242.1 points and so was finally 17.8 points ahead of Italy's Evelyn Insam, who took the second place with jumps of 91.5 and 94.5 meters. The whole Italian team celebrated this first World Cup podium for Insam like it was a victory. But no words were needed to recognize, that all of them were also remembering their late team-member Simona Senoner in this moment of joy. Two years ago, the last time a Ladies competition was held here in Schonach, Senoner died by the age of 17 due to a viral infection.
The third place was shared by Daniela Iraschko and Jacqueline Seifriedsberger from Austria. Both scored 219.2 points, with jumps of 94.5 and 89.5 meters (Iraschko) resp. 93.5 and 95.5 meters (Seifriedsberger). It is not the first shared podium place of the two Austrian top jumpers. In September 2011 they celebrated a double-win of a Continental Cup in Trondheim.
Fifth came Norway's Anette Sagen with a pair of jumps of 89.5 and 96.5 meters, sixth Katja Pozun from Slovenia, who had won yesterday's Qualification, with jumps of 90.5 and 91.5 meters.
In the overall World Cup leader Takanashi has now 440 points, second is Iraschko with 310. Third is Coline Mattel (FRA, 12th today) with 288 points.
Statements of the top three jumpers of this competition will follow immediately after the press conference, that's scheduled for 16:00h.
RESULTS AND STANDINGS:
Results after the 1st round »
Final results of the competition »
Current overall World Cup standings »
Current Nations Cup standings »